The FoamX
FoamX mixers are the result of extensive research and development by handling and avoiding all problems faced during the application of foam concrete on sites.
FoamX has two standard models the FX500 and the FX1000 as per the below table producing foam concrete with densities up to 1400 kg/m 3 but other special models are available based on specific conditions required by construction companies.
For best results and performance we recommend to always use FoamX mixers with PumpX RX Series.
FoamX mixers works perfectly with all types and brands of foaming agents
Principle of Operation
The FoamX mixer is designed based on years of experience in the field of foam concrete ( application carefully eliminating all and any obstacles faced in all the steps of the application process
The FoamX mixer has a dedicated foam generation tank where the foaming agent is placed then subjected to carefully calculated amounts of water and compressed air reaching the desired foam specification

Then the generated foam enters the mixing tank where cement is added (sand too) to reach the indicated desired density based on the intended application and consultant's recommendation
Download Datasheet
Transportable & Mobile
Easy access to all sites and locations.
Lowest operational cost with fast and easy maintenance
Low power consumption integrated in a sleek design requiring minimal intervention.
Easy Operation
Requires minimum number of workers.
Proper mixing of the medium
Excellent and accurate results with exact densities required providing highest desired performance.
Self priming with excellent suction & discharge lifts
When integrated with RollX RX 50 F peristaltic pumps that can self prime with a suction lift reaching 9.8 meters and discharge vertical lift xceeding 60 meters 10m 3 / hour discharge capacity
Long service intervals
All components have been carefully selected to ensure the best performance with the least service requirements
Long life and greater durability
The FoamX range is designed and manufactured for heavy duty industrial use.
Affordable
At an excellent investment cost, the profit could be achieved from the first contract.
The FoamX can produce foam concrete also know as light weight concrete or cellular light concrete (CLC) with the following densities for various applications:
Density 200 400 kg/m 3 Only Cement & Foam
Foamed concrete with these densities is used in roofs and floors for insulation against heat and sound. It is used interspace filling between brickwork in underground walls, insulation in hollow blocks and any other filling situation where high insulating properties are required.
Density 500 900 kg/m 3 Sand, Cement & Foam
Used for the manufacture of precast blocks and panels for curtain and partition walls, slabs for false ceilings, thermal insulation and soundproofing screeds in multi level residential and commercial buildings. Foamed concrete of this density range is also ideal for bulk fill application.
Density 1000 1400 kg/m 3 Sand, Cement & Foam
This material is used in concrete blocks and panels for outer leaves of buildings, architectural ornamentation as well as partition walls and floor screeds.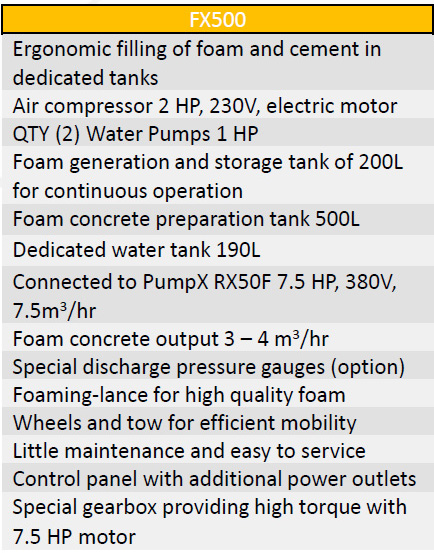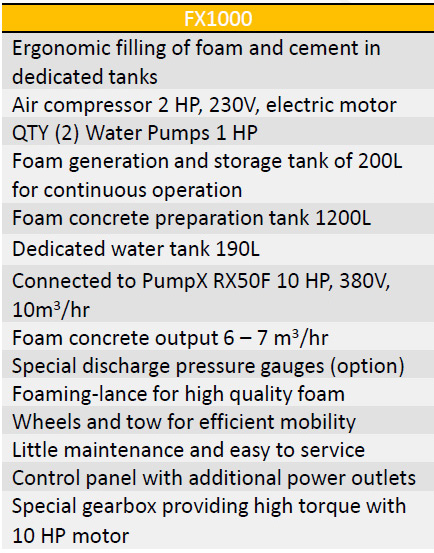 The following accessories could be supplied for FoamX upon request:
Foaming agent feeder
Water flowmeter
Digital indicator control panel
Cement & sand feeder
Special Off road wheels